3-In-1 "Heat Therapy"- Neck Massager
Regular price
Sale price
$59.99 USD
Unit price
per
Sale
Sold out
Aching necks can be so much easier to relieve!
With only 15 minutes of our product's operation, you will notice major and immediate improvement in muscular tension relief all-around the neck area! 
Fully Adjustable

 

- Suitable for men and women.
Warm Compression and Quick Relief

 

- Hot compress at 42℃ can relax blood vessels, relax muscles and bones, accelerate blood circulation and relieve cervical pain.
Real Massage

 

- Soothes tired muscles, reduces stress, and relieves aches and stiffness by imitating the effects of a real massage.
3 Massage Modes and 15-step Force adjustment

 

- Acupuncture and moxibustion mode, massage mode and knocking mode.
Safe and Convenient

 

- Let your mind wander as you read, work, or relax. Default power off at 15 minutes allows for safe power consumption and peace of mind.
Lasting Relief

 

- The 1600mAh battery allows for one month use on a single charge*.
Automatic mode: Effectively relieve muscle tension and improve inflammation and edema of muscle tissue.Suitable for daily massage
Soothing mode: Effectively relieve muscle spasm and relieve pain symptoms. Suitable for stiff neck and neck injuries
Vitality mode: Effectively improve blood circulation and increase muscle strength. Suitable for chronic cervical strain
Relieve Neck Pain!
Multiple kneading massage nodes deliver gentle warmth and electrical pulsations 3 to 5 centimeters below the skin. This leads to more blood flow and release of pain-killing endorphins to the affected area. Expect to enjoy a deep tissue massage that can open up pain points and lessen the discomfort associated with the cervical spine.
How It Works
Our 3 in 1 Smart Neck Massager uses low-frequency electrical impulses with the newest TENS (Transcutaneous Electrical Nerve Stimulation) Technology, to simulate a real massage and refresh tired, sore neck muscles.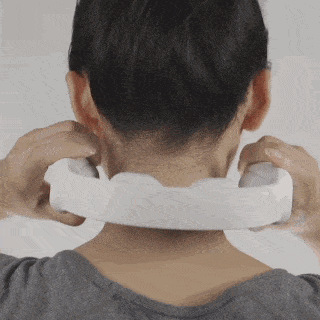 Built For Maximum Comfort And Durability 
Made from durable 304 stainless steel, the massager is built to last. Plus, it's tough elastic arm and soft pressure band makes it suitable for all neck sizes. Expect a firm, comfortable fit.
*FAQ:
Will It Hurt Me?  
The voltage is 5V, which is far lower than the international safety voltage standard 36V. The massage machine uses pulse technology, and you will feel a slight electric flow that won't hurt you.  
Who Is Not Suitable For This Massager?  
Pregnant women: Should avoid using TENS in the abdominal and pelvic regions.  

 

People with epilepsy: Applying electrodes to the head or neck may induce seizures. 

 

People with heart problems. 

 

People with any time/form of cancer 

 

People with a pacemaker or another type of electrical or metal implant. 

 
Safety Guidelines  
The massaging time should NOT exceed 30 minutes per day. The intensity should be set at an acceptable level that your body can endure. 

 

Make sure the skin of your neck is well moistened. Before using the massager, moisten your neck with a wet towel in advance.

 
Share